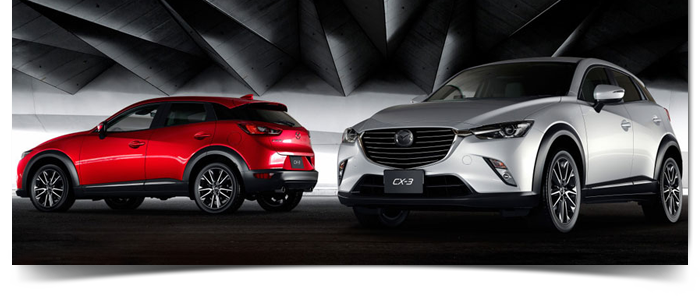 New CX-3 Inventory  |  Used CX-3 Inventory  |  View Incentives
The Mazda CX-3

Making its way to the subcompact SUV segment, Mazda has unveiled the Mazda CX-3. Fun and feisty, this little beast has a can-do attitude, backed by edgy styling following Mazda's KODO design philosophy: Soul of Motion. This is the third and smallest SUV for Mazda, after the midsize three-row CX-9 and the compact two-row CX-5.
The 2016 Mazda CX-3 has earned much recognition and praise for its safety features, appearance, price, and other features. It was named Car and Driver's #1 Subcompact Crossover, earned the Top Safety Pick and Award from the non-profit Insurance Institute for Highway Safety (IIHS), and was one of the Mazda vehicles recognized as Kelly Blue Book's (KBB) lowest 5-Year Cost to Own brands. The sleek design and stylish leather interior give the feeling of driving a luxury car sans the luxury price, and its 146 horsepower and 35 highway MPG promise to provide an exceptional experience for any driver.
An open chrome grille and LED headlights adorn the very front of the exterior body. Dynamic curves lead up to the hood of the SUV, while a defined edge accentuates the overall shape leading many to herald it the most appealing crossover currently on the market. The Mazda Cx-3 boldly takes the road with a hunkered stance and angular sloping roofline, on its way to newly defined brilliance.

The CX-3's multitude of storage options, push button start, blind spot monitoring, and rearview camera emphasize safety and performance, and come together to create a crossover that is attractive, fun to drive, and offers a variety of features for both individuals and families. Overall, the Mazda CX-3 is a car that combines the features of a luxury car with the performance of a crossover to offer a vehicle that is sleek, efficient, and tops many of the cars in its class.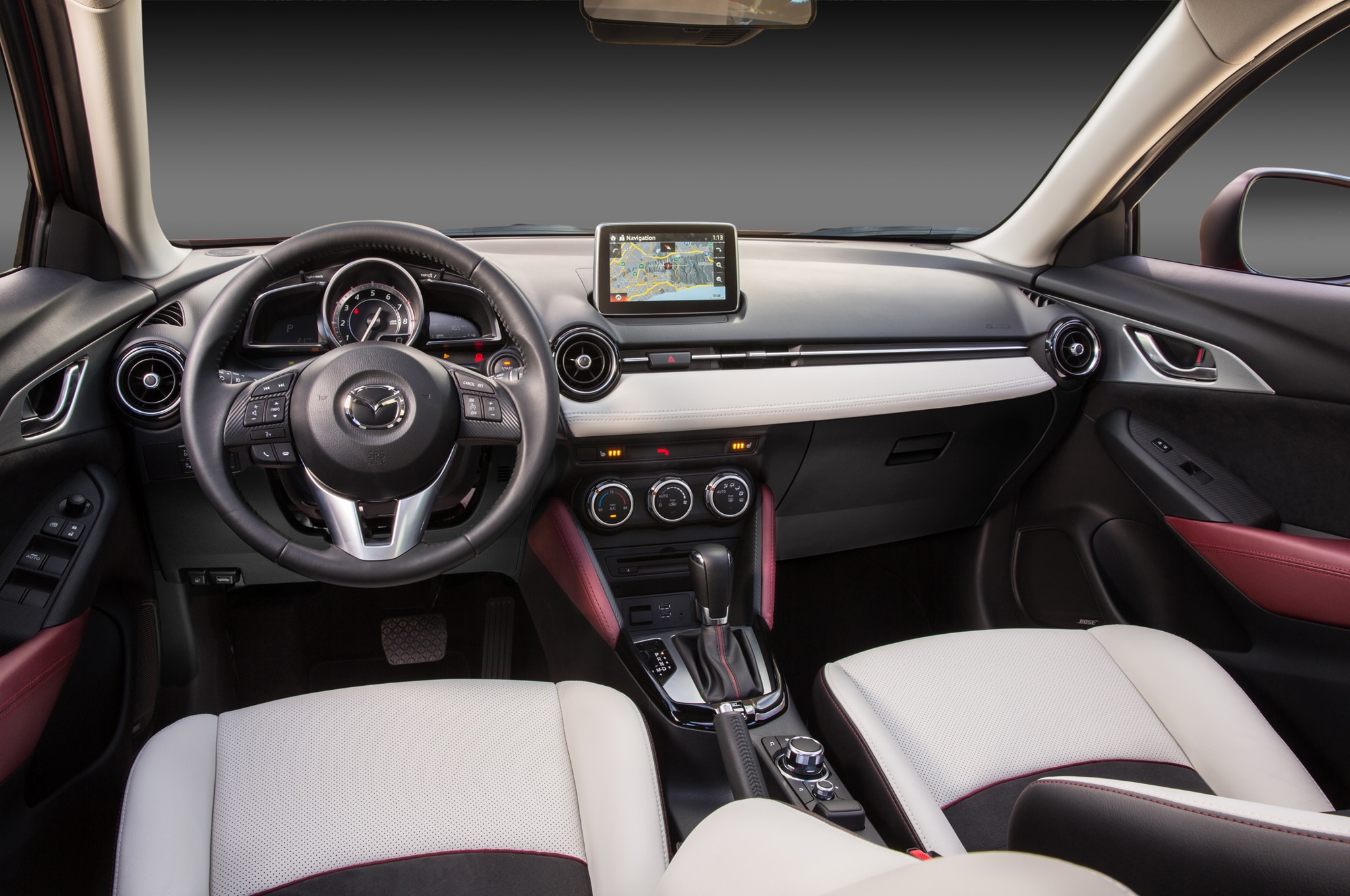 Though smaller (perhaps the smallest yet) in size, the CX-3 does not fall short of its rivals in the subcompact crossover category. The CX-3 is slightly wider than the supermini, has more headroom than a Mazda 3, and is very similar in features to the Mazda CX-5. Based upon the same wheelbase as the Mazda 2, the CX-3 stretches about 8.5 inches further than the 2,   and about 16 inches shorter than a Mazda 3. Totaling 69.5″ wide, 61″ high and 168.3″ in length, there is more to this compact than meets the eye. Technological features available in most models include: bluetooth, smart phone connectivity, a seven inch dashboard informational screen, and blind spot monitoring. 

As if that isn't enough, the CX-3 also comes equipped with Mazda's i-Activsense. Activsense is a unique safety feature that includes elements such as: active headlights (which sync the headlights to follow the direction of the steering wheel), high-beam assistance (which automatically dips the headlights when oncoming traffic is detected), lane-departure warning, and front and rear parking sensors. 

Mazda has well-founded high-hopes for its first ever CX-3 crossover. Though many may consider it pint sized, the compact is full of conviction, creativity, and courage, providing more bang for your buck with this crisp new vehicle. The New York Daily News even goes so far to predict: "Mazda will sell a ton of CX-3s on the strength of the styling alone."