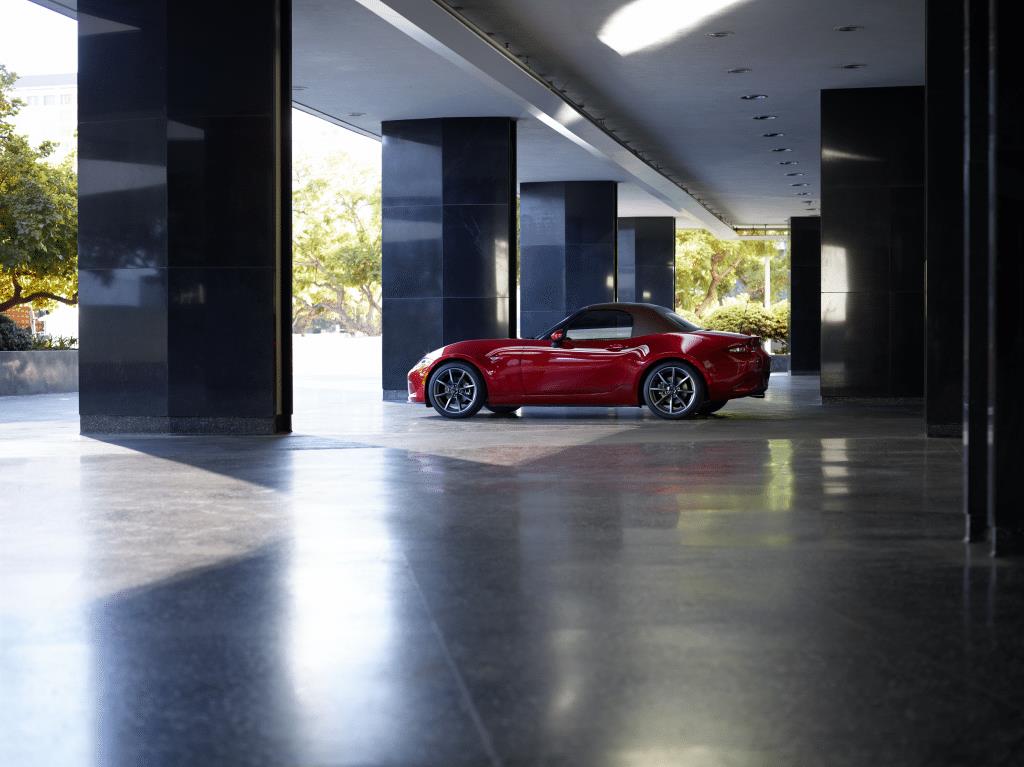 The Mazda MX-5 Miata has never been about power; it's a car whose sole purpose is to help the driver and passenger fall in love with driving. But, a little extra power never hurts, which comes as one aspect of numerous updates for the 2019 model year.
Mazda's engineers enriched MX-5's SKYACTIV-G 2.0-liter engine with the goals of improved response, performance, feel, and efficiency. The net results are 181 horsepower at 7,000 rpm—a 17-percent improvement—and 151 lb-ft of torque at 4,000 rpm, with a richer torque curve throughout MX-5's entire rev range.
Speaking of rev range, redline has increased from 6,800 rpm to 7,500 rpm. Engineers were able to increase performance through several means, including: reducing internal mass and friction, reducing exhaust loss, improved combustion, dual-mass flywheel, a new exhaust system with richer sound quality, and new final drive ratio. The transmission's final drive ratio has been increased from 3.454 to 3.583 in models equipped with an automatic transmission in order to improve linear response to match the driver's intentions.
As a result of numerous changes, MX-5 is quicker, more responsive, and aims to be more engaging to drive, adhering to Mazda's unique Jinba Ittai—"horse and rider as one"—engineering philosophy.
On the safety front, the new MX-5 will be sold with a new, standard rearview camera and newly available features such as Traffic Sign Recognition and Smart City Brake Support in addition to other i-ACTIVSENSE safety technologies found throughout various trim levels.
When the fourth-generation MX-5 launched, its development team rallied around the idea of innovating in order to preserve. The latest round of innovations aim to continue that mission.
The 2019 Mazda MX-5 will be available in the U.S. this fall, with pricing, packaging and full specifications to be announced closer to on-sale timing. Details concerning the 2019-spec Global MX-5 Cup race car will also be announced at a later date.