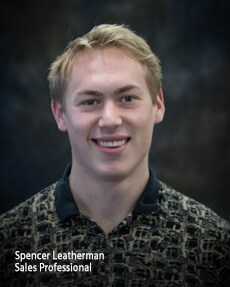 What better way is there to gain sales experience besides working in the car industry? Spencer Leatherman is doing just that and is ready to celebrate his one-year anniversary at O'Daniel's Automart/Mazda.
Before O'Daniel's, Leatherman worked at a bank. What caused him to leave the bank and join the car industry? "The opportunities," he said. "I am going to continue to work hard and see where this takes me."
One thing Leatherman enjoys about working in the car industry is he never knows what to expect since every day offers something new. His most memorable day on the job was when he was tasked with snow removal. "My hands froze," he recalls, "and I thought to myself if I can make it through this, I can make it through anything."
During his time at O'Daniel's, one thing has stuck with Leatherman: "You can't skip a step on the road to a sale." He also remarked that "You will hear more no's than yes's" — but Leatherman offers some advice to his fellow car salesmen: "Don't be bummed about a no because a yes is right around the corner!" His positivity about his job is an asset that helps to make every day great.
Leatherman would describe his work style as "laid back. I like to let my customers decide what is best for them and do whatever I can to help them make that decision."
When asked to describe what he would do if he was introduced to someone at a party, Leatherman admitted: "I have terrible anxiety in social settings." However, he doesn't let this anxiety stop him from providing the best experience for his customers.
The Rock has been a major influence for Leatherman "because he is the peoples' champ!" He also finds inspiration from the lyrics of Drake's song "Survival," specifically: "My Mount Rushmore is me with four different expressions."
Congratulations, Spencer, on your first anniversary with O'Daniel's Automart/Mazda — and to many more!
We're excited to see where your hard work will lead you!