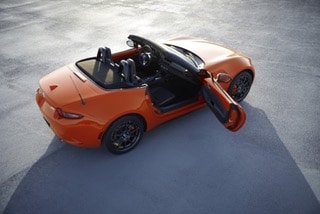 The debut of the Mazda MX-5 Miata was in 1989 at the Chicago Auto Show. Carrying with it three decades of history, Mazda has now released the MX-5 Miata 30th Anniversary Edition. The 2019 model comes in Racing Orange, the exclusive exterior paint showing appreciation for to those who have supported the model throughout its development.
The Anniversary model features 151 lb-ft torque, 181 horsepower with a SkyActiv-G 2.0L engine. The SkyActive-Vehicle Dynamics with G-Vectoring Control is aimed to improve your ride. This engine is made to use more energy from fuel through its compression of the air-fuel mixture. Creation of this machine was human focused, which follows the along the lines of the traditional Mazda philosophy.
There are only 3,000 units of the model made worldwide and may be ordered as a soft top or RF with manual or automatic transmission. The model comes with new badging in honor of the 30th Anniversary, which is represented as the serial number of the vehicle. Orange interior accents will line the brake calipers, door trim, dashboard, and shift lever.
The Miata also includes Rays 17-inch forged aluminum wheels, exclusive to the MX-5 and goes back to the Global MX-5 Cup Car, and Recaro Sports seats wrapped with Alcantara.
The Racing Orange, also used for the MX-5 Miata Club Racer, for Mazda represents, "sunrise and anticipation, while staying true to the characteristics of a pure sports car."
Mazda began racing in 1968 and won the 24 Hours of Le Mans in 1991. Within its 30 years, the MX-5 Miata has won nearly 300 awards, including U.S. News & World Report "2018 Best Car Brand," and has been ranked by EPA as "the most fuel-efficient auto manufacturer in the U.S."
The set date for order placements for the Mazda MX-5 Miata 30th Anniversary Edition became available on February 7th, 2019.