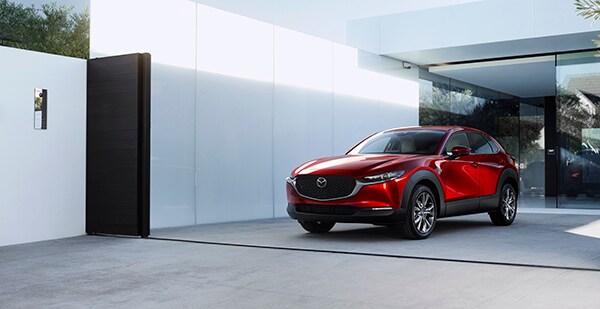 Mazda unveiled the CX-30 Compact Crossover SUV as a part of Mazda's new-generation lineup.
The second generation product has improved basic functions such as breaks and acceleration.
This model uses the environmental technology SkyActiv-X, and the combustion engine uses the technology Spark Controlled Compression Ignition that allows the engine to run on regular gasoline. This engine improves the fuel efficiency 20-30% from the current Mazda gasoline engine, one of the many things it excels in. It also features 180 horsepower, a CO2 performance below 99 grams, and substantial fuel consumption.
The compact crossover is category leading for NVH—noise, vibration, and harshness—and has a new seating shape that is meant to follow the natural S-curvature of the spine for further comfort. The vehicle also includes more height over a passenger car to increase visibility.
The CX-30 will have all-wheel-drive, new sound system, and the i-ActivSense safety system. This safety system acts as a way to help drivers be aware of hazards, and assist in situations of a potential collision.
President, CEO, and Mazda Representative Director Akira Marumoto stated, "Moving forward, our new products and technologies will ensure customers continue to see the value in owning a Mazda car. We aim to be recognized as a brand that forms the strongest of bonds with each customer.
The Crossover is meant to be a user friendly vehicle that follows the sizing of an SUV while satisfying the Kodo design philosophy. Kodo translates to "soul of motion," and the design is from Mazda's executive officer and general manager of the design division. The philosophy is meant to let its designers, "imbue each model with its own personality while staying true to a unifying theme."
The Mazda CX-30 Compact Crossover SUV will be available Summer 2019 and was publicly showcased at the Geneva International Motor Show March 7th-17th.