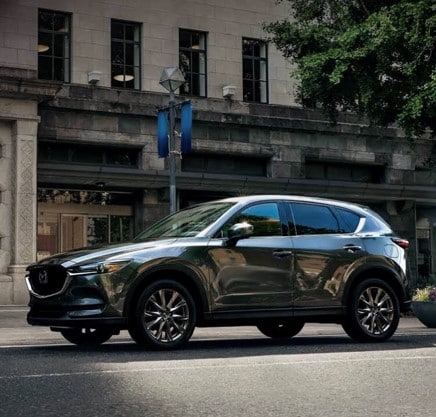 The Mazda CX-5 Compact Crossover SUV has been awarded the "Top Safety Pick+" by the Insurance Institute for Highway Safety (IIHS) for its 2019 model. This isn't the first year the CX-5 has earned this award. Since first receiving the TSP+ in 2014 (the TSP+ was first introduced in 2013), the vehicle has continued to improve every year.
The IIHS is a nonprofit, organization that works to prevent road accidents. According to the IIHS, a vehicle must earn the highest rank in the evaluation of these vehicles. The Mazda CX-5 2019 model earned the top ratings in the majority of these tests. These tests check aspects of a vehicle such as the "crashworthiness," "crash avoidance and mitigation" and "child seat anchors (latch) ease of use."
There have been some improvements from the 2018 model, starting with their SKYACTIV-G 2.5T engine. According to Mazda, this engine has turbo with 187 horsepower and 186 lb-ft of torque. The brand also came out with a new signature interior that includes soft, nappa leather for the crossover.
The front crash prevention of the CX-5 has enhanced over the years. The model went from "Advanced" in 2015, to "Superior" in all of the years following.The SUV comes equipped with passive safety technology to prevent road collisions. This includes blind spot monitoring and pre-collision safety technology, all to prevent and provide aid during accidents.
Mazda is always striving to "shape the future of driving." The brand is building a new intelligent transport system. This technology is built to warn the driver of upcoming hazards like pedestrians, other vehicles, etc. The purpose is to decrease the number of road accidents going forward.
Mazda's brand is unique because it works to build with people in mind. Their "human-centric" outlook helps them to consider the experience their customers will have driving their vehicles. Mazda Managing Executive Officer of design and brand style said during an interview with Mazda: "Mazda is a brand for people who truly love cars, and my aim is to create designs that will continue to excite and entice these people."