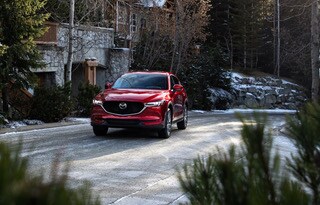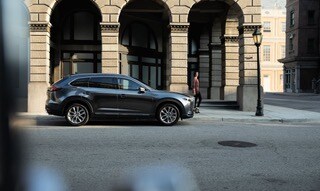 ​
Mazda's popular SUVs, the 2019 CX-5 compact crossover along with the CX-9 three-row crossover, stood out this past year and the two have been named
Car and Driver
magazine's 10 Best Trucks and SUVs for 2019.
These two vehicles have proven themselves with their prominent features from distributing a smooth driving experience, providing outstanding fuel efficiency, and a luxurious exterior appearance. This is the Mazda CX-5's second year in a row as Best Compact SUV, and the Mazda's CX-9 third year recognized for Best Mid-Size SUV.
One of the many reasons Car and Driver recognized the 2019 Mazda CX-5, is because of its upgraded interior and its elegantly crafted exterior, along with its reasonable price for customers. Car and Driver highlighted that the CX-5 "was designed for people like us—people who love to drive."
Not only was the Mazda CX-5 complimented for its redefined interior aspects and overall design, but so was the Mazda CX-9 which also includes updated elements and provides excellent driving experiences.
Car and Driver back-up their Mazda CX-9 recognition by stating, "Nothing in this class can match the CX-9's dynamic competence. It's not even close, friends. If you need a three-row SUV, you will not find a better-driving, more satisfying one than the Mazda CX-9. Period. Take a gander at the flowing curves and taut lines of the CX-9. Inspect its tasteful adornment. Inside, you will find one of the most handsome arrangements of materials in the segment. A mass-market family vehicle needn't look and feel like a plastic storage bin. And you need not pilot a rudderless barge down the shipping lanes of middle age."
The Mazda CX-5 steps up its game with its two new additional high-class trim levels including the Grand Touring Reserve and Signature. Also, the Mazda CX-5 improved its powertrain lineup with the installation of the turbocharged four-cylinder SKYACTIV-G 2.5T engine and an increased center of attention on the chassis featuring the most recent technologies with G-Vectoring Control Plus.
The Mazda CX-5 is full of advanced technological features such as the 360° View Monitor and the 7-inch, full-color touchscreen display with available Apple CarPlay and Android Auto which help refine overall comfort, convenience, and safety.
The 2019 Mazda CX-9 also comes with updated elements to enhance drivers and the passenger's experience in all three rows such as an improved suspension feature that gives drivers a smoother ride along with significant sound suppression by placing a thicker headline and floor mats in the SUV creating an environment for enjoyable conversation.
This leading three-row SUV comes with 360° View Monitor, ventilated front seated, new, power-folding mirrors and Apple CarPlay™ and Android Auto™ compatibilities.
Mazda not only has award-winning SUV's, but Car and Driver's named the 2019 MX-5 Miata as one its 10 Best Cars for the 18th year in a row.