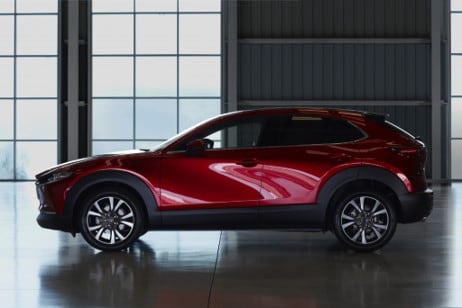 The vehicle provides the space and comfort for the driver and their passengers to have a relaxing ride. Using Skyactiv-Vehicle Architecture and i-Activsense features, the driver and crossover are in tune. Skyactiv-Vehicle Architecture provides a more comfortable ride for the driver with seats designed to follow the spine's natural "S" curve and more.

The i-Activsense features include Skyactiv-X, Skyactiv-G and Skyactiv-D engines. These three features are able to assist in control over the car's speed. The all-wheel-drive system has been modernized with the G-Vectoring Control, advancing the load control to provide a smooth ride.

The CX-30 was made with the Soul of Motion design concept of Mazda in mind. The philosophy is based on Japanese aesthetics, making the car into art. The crossover's exterior resembles a "Sleek & Bold" design, wanting the, "flowing beauty of a coupe and the bold toughness of an SUV." The vehicle's interior focuses on space and comfort, all while providing top-quality.

A goal of Mazda is Jinba-Ittai, "the feeling that the vehicle is an extension of the driver's body, precisely controlled without conscious thought." For this, the Skyactiv-Vehicle Architecture is brought in, meant to improve the overall driving experience.

The Skyactiv-Vehicle Architecture will provide the design following the natural "S" curve, with the upper seat supporting the rib cage gravitation and allowing the driver to steady their head naturally.

The updated Skyactiv engine lineup gives enhanced fuel economy and environmental friendliness. Based on human sensory characteristics, the vehicle will have quality NVH — Noise, Vibration, and Harshness. The NVH has been enhanced by a sound-absorption included in the headliner and floor matts, reduced vibrations from the tires through a vertical yield and increased harshness and more.

Mazda follows the Mazda Proactive Safety philosophy to push the efforts towards safety performance through i-Activsense features and other safety technologies. From these features, the CX-30 uses a Driver Monitoring system to aid the driver with advanced brake control. Providing the driver with a safe, smooth ride.
The Mazda CX-30 will be available in Europe in Summer 2019. An official North American date has not been announced.