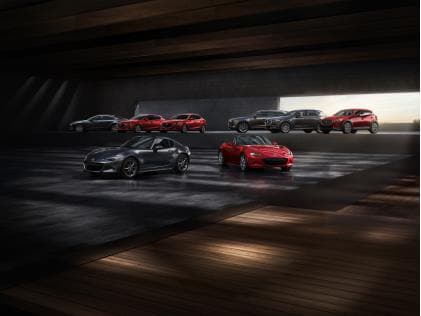 At the New York International Auto Show in April, Mazda celebrated another achievement that highlights the automaker's dedication to providing excellent performance and high-level safety in their vehicles. For the second consecutive year, Kelley Blue Book recognizes Mazda as the Top Performance Brand in its 2019 Brand Image Awards. These awards recognize automakers who go above and beyond creating and maintaining brand attributes that buyers are interested in.
"We work hard to focus on what drivers want — cars that are engaging to drive with our unique Kodo styling and our inventive engineering. This commitment to our customers is what pushes us to continually make improvements. We are honored to have this dedication recognizes by being awarded Kelley Blue Book's Top Performance Brand award for 2019,"said Dino Bernacchi, chief marketing officer for Mazda North American Operations. "Mazda is a company made up of skilled craftsmen, and we will continue to infuse each vehicle with the soul and passion of our talented people."
Kelley Blue Book determines winners by using data from Kelley Blue Book Strategic Insights' Brand Watch — an online brand and model tracking study. Every year, the study uses data collected from more than 12,000 in-market new-vehicle shoppers who use Kelley Blue Book's official site to research vehicles they are considering for purchase. The study takes into account what features new car buyers are searching for during their research.
"Mazda vehicles are engineered to be intuitive and exciting to both the driver and passenger, which is something that resonates with consumers," said Hwei-Lin Oetken, director of strategic insights for Kelley Blue Book. "This is Mazda's second consecutive award for Top Performance Brand, which is validation of the Mazda team's steadfast commitment to building familiarity and loyalty among consumers."
It's no wonder why Mazda is a brand that's popular among car buyers. With exciting and intuitive designs that feature athletic styling and advanced technologies, receiving the Top Performance Brand reflects Mazda's aptitude for enthusing the new-car buying public.