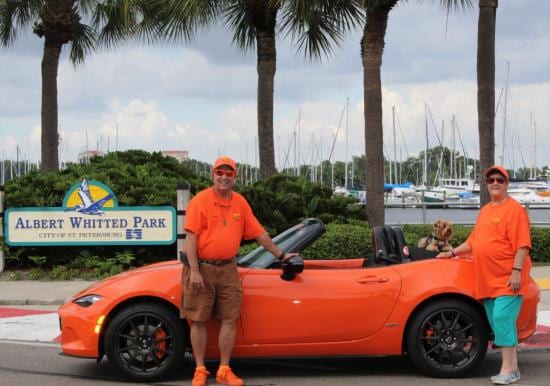 Since its debut 30 years ago, the MX-5 Miata has consistently wowed Mazda enthusiasts. Back in February of 2019, Mazda announced a new MX-5 Miata model to commemorate the 30th anniversary of the iconic roadster.
With only 3,000 MX-5 Miata 30th Anniversary models being distributed worldwide and only a small allotment coming to the United States, prospective owners quickly placed their pre-orders in hopes of owning this limited edition sports car.
The wait is finally over, and dedicated fans are beginning to claim their celebratory roadsters. Gerald Blum—a longtime fan of the brand—was one of the first to secure his 30th Anniversary model from Tyrone Square Mazda in St. Petersburg, Florida.
Counting the latest model, the Blum family has owned 13 Mazda vehicles, including a first-generation 1978 Mazda RX-7 that was the 249th unit produced. When the announcement for the 30th Anniversary model was made, Blum knew he had to pre-order the vehicle to go with his Soul Red Crystal 2016 MX-5 Miata Club.
"What I love most about Mazda is the experience of driving the car," Blum said. "As a diehard Mazda enthusiast, I'm thrilled to be among the first to get the new MX-5 Miata 30th Anniversary and cannot take my eyes off the brilliant Racing Orange paint scheme. Orange is the new red!"
The new Racing Orange paint scheme was specifically designed for the 30th Anniversary edition. The brake calipers feature the same color, and the interior boasts Racing Orange accents on the doors, dashboard, air vents, shifter, and seat stitching.
Along with the new color scheme, the 30th Anniversary model received 17-inch Rays ZE40 Gunmetal forged alloy wheels that are similar to the ones found on the MX-5 Cup race car. Exclusive Recaro sports seats add to the overall sporty design of the Miata.
Thinking of ordering a custom Miata? Stop by O'Daniel Mazda and talk to a specialist!