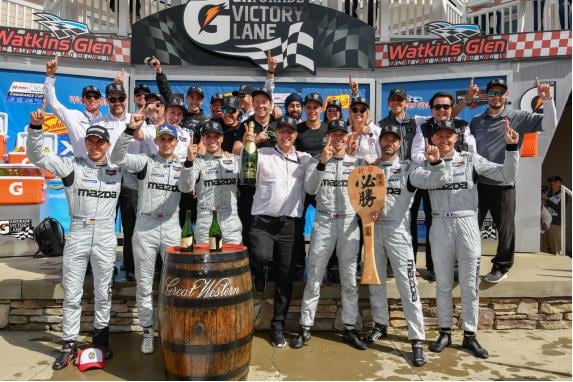 Since January, the International Motor Sports Association (IMSA) WeatherTech Sportscar Championship has been underway. This year marks the 50th anniversary of when the IMSA was founded. As part of the celebration, several teams are using liveries from iconic teams throughout the IMSA's history. The 2019 season also brings some new changes to the championship series.
One change is the prototype class was split into two separate classes: the Daytona Prototype International (DPi) and the Le Mans Prototype 2 (LMP2). This change appointed the DPi class as the lead class of the championship, featuring fully professional teams racing DPi cars.
At Sahlen's Six Hours of The Glen — a six-hour race open to all classes at the Watkins Glen International circuit in Watkins Glen, New York — Mazda Team Joest won their first DPi race in the championship. Placing first and second, the team dominated with their Soul Red Crystal Mazda RT24-Ps — leading a combined 183 of 211 total laps.
The race started with the No. 77 Mazda RT24-P in the pole position after a new course record for the DPi class was set by Oliver Jarvis in the qualifying session. Both the No. 77 Mazda RT24-P and the No.55 Mazda RT24-P led throughout the first five hours of the race.
A caution period in the final hour put the No. 77 and No. 55 Mazdas in second and third until Harry Tincknell, one of the drivers for the No. 55, managed to take the lead and build a gap between the first and second positions. After the final pit stops, Tincknell maintained his advantage while the No. 77, driven by Oliver Jarvis, managed to jump ahead into second place.
When the race ended, Tincknell crossed the finish line 0.353 seconds before Jarvis. Olivier Pla, one of the drivers for the No. 55, had the fastest lap of the race with a time of 1.29.657.
The WeatherTech Sportscar Championship continues September 15th with the Continental Tire Monterey Grand Prix — a 2 hour and 40 minute race open to all classes at the WeatherTech Raceway Laguna Seca circuit in Monterey, California. Finally, the series ends on October 12th with the Motul Petit Le Mans — a 10-hour race open to all classes at the Michelin Raceway Road Atlanta circuit in Braselton, Georgia.