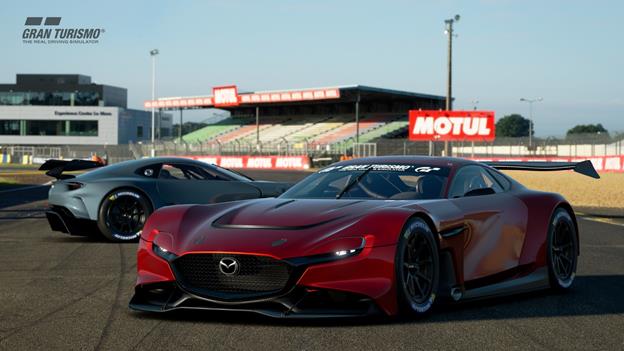 We are living in a new world in which the pandemic has caused people to migrate towards indoor isolation. However, this has not stopped Mazda from creating an innovation that brings people together without putting them at any risk. Mazda Motor Corporation has announced the release of something new that you will not want to miss out on, the "Mazda Rx-Vision GT3 Concept." This virtual race car developed jointly with Polyphony Digital Inc. is now available for users to take for a spin. Virtually.
Getting a taste of the utter joy that comes with driving a car has never been easier. No matter the country, region, language, or generation, anyone can enjoy the same experience through the shared language of cars and driving. Sony Interactive Entertainment's PlayStation® 4 driving simulation, Gran Turismo Sport, features the RX-Vision GT3 Concept as its newest virtual race car, allowing players to take it for an online spin. Digital Motorsport is changing the perspective of this period from "isolated" to "innovative" by connecting car enthusiasts worldwide with one another.
This is exciting not only due to its perfect timing but also because of the exciting available benefits. Players who use Mazda vehicles in Gran Turismo Sport are automatically granted seed rights to participate in the FIA Certified Gran Turismo Championship in the 2020 season. The FIA Gran Turismo Championships include over 400,000 challengers worldwide participating in a championship realized through a partnership between the FIA (Fédération Internationale de l'Automobile) and Gran Turismo. The opportunity to race in the GT3 for a tour that is to be held in various locations around the world allows players to experience new sides of the game from the Mazda point of view.
The original Mazda RX-Vision is a concept car that was initially announced at the 2015 Tokyo Motor Show. Since then, the GT3 version was developed with an even more aggressive appeal. The GT3 mounts a 4-rotor "SKYACTIV-R" engine in the lightweight chassis, pursuing an unprecedented performance and appearance of a racecar.
Mazda, in conjunction with "Gran Turismo SPORT," has gone above and beyond to present the new RX-Vision GT3 Concept. Celebrate driving and take your virtual vehicle for a spin today!