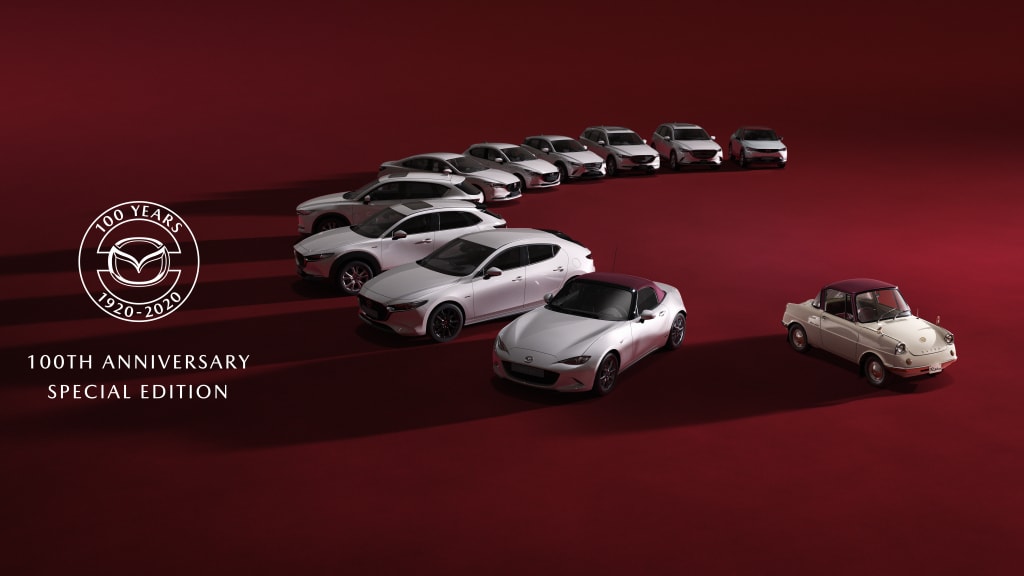 Mazda is expressing 100 years of appreciation with its 100th Anniversary Special Edition models. These commemorative models are inspired by Mazda's first passenger vehicles—the 1960 R230 Coupe. Mazda Motor Corporation celebrated its 100th anniversary in January of 2020, a momentous occasion worth honoring in a special way. The company has seen consistently strong support from all over the world and would like to say thank you through its Special Edition models.

The R360 Coupe made a striking impression and encompassed lightweight features, a futuristic design, and innovative engineering, all traits that would go on to be hallmarks of the Mazda brand. Powered by a four-cycle engine, it was unprecedented at the time among its specific segment. The top-trim variants of the R360 Coupe, with a colorful roof, a matching interior hue, and a contrasting two-toned white body were chosen to inspire the 100th Anniversary Special Edition models. This style emphasizes a sense of individuality through novelty, yet tastefulness.

To celebrate Mazda's strong past, present, and future, a unique logo is featured on the 100th Anniversary Special Edition models. Created when Toyo Kogyo was first formed, the round "Industry" logo is placed under the current Mazda brand mark. This is designed to reflect the company's desire that is inherited from its founder, and that is to continuously contribute to the world through both determination and engineering. It is determined to move boldly towards these next 100 years.

A beautiful White Pearl Mica premium exterior paint along with accented red styling features throughout the vehicle adorne each commemorative model. Giving a nod to the two-tone R360 Coupe, the red carpet and red leather seats add a sense of sophistication and class. A minimalist "100 Years 1920-2020" badge is featured on the front fender, while the wheel center caps present the 100th Anniversary Special Logo. The logo can also be found embossed on the headrests, while the floor mats share a very similar badge to the front fender. Finally, featuring the 100th Anniversary Special Logo presented in a special edition box is the key fob, intended to help inspire an emotional bond and one of a kind experience between Mazda and all the brand fans.