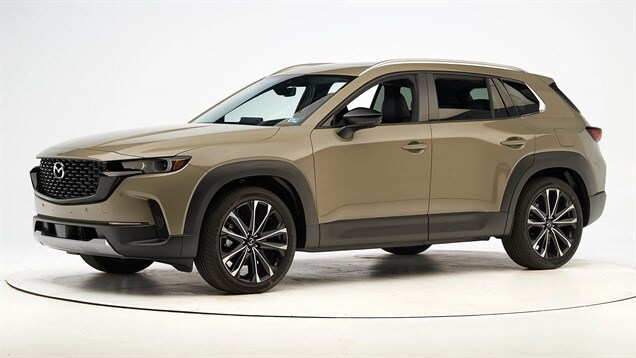 The most important quality in a vehicle is safety. Without the assurances that a car is safe to drive and will protect the people we love most, any of the other features are irrelevant. This year, the Mazda CX-50 has excelled in this most crucial field. Specifically, after undergoing a battery of tests to ensure its crashworthiness, crash avoidance, and mitigation, the CX-50 has been rated by the IIHS as Top Safety Pick+ in the small SUV category.

Crashworthiness is the ability to protect passengers in the event of a collision. Notably, the CX-50 received the highest rating in each of the crashworthiness metrics that are assessed by the IIHS. The first of these are the overlap tests. In this test, an obstacle collides with the front of the vehicle. The IIHS tests both sides, as well as a larger obstruction that is centered in the moderate overlap test, to measure the damage caused by obstructions in the real world that often appear in an orientation similar to the obstacles in the test. These include trees, utility poles, and signs.
Additionally, the IIHS performs side crash tests, where a 3300 pound object simulating the front of an SUV or truck, collides with the side of the car to test its resilience against T-bone crashes. Lastly, the IIHS performs roof strength tests by pressing a heavy metal plate on the roof with increasing force and measuring how much it caves in. This tests how well the roof will hold up in the event of a rollover, where the most common injuries are from the roof caving in on the heads of the passengers. In all of these tests, the CX-50 passed the IIHS' most stringent requirements with flying colors.
Especially if you are buying a vehicle for the first time or if you are looking for a car for a child, safety must be a top priority. With the Mazda CX-50, customers do not need to worry that they are trading safety for price.